« General gesture control | Main | Video Jockeys »
Projectors augmenting reality
Augmented carnage. "The remote-controlled vehicles scurry around, while status circles and other data are projected on the surface. As the vehicle moves, cameras and photo-detectors relay the movement to tracking software. Images are projected to the areas corresponding to the actual positions and directions of the toys: virtual laser beams and missiles appear to fly out of the real vehicles; explosions are overlayed on the screen as they connect with their targets. "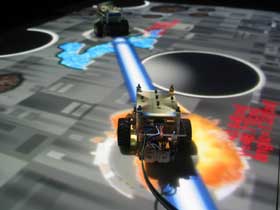 we make money not art
Posted by Richard on September 16, 2005 03:50 PM